---
Party's mass line education practice activities
---
On the morning of April 24, 2014, the leaders of the 13th Supervision Group of Chongqing Municipal Party Committee and the Organization Department of the County Party Committee conducted on-site supervision and inspection of the "Party's Mass Line Education Practice Activity" carried out by the Party branch of Huawu Pharmaceutical.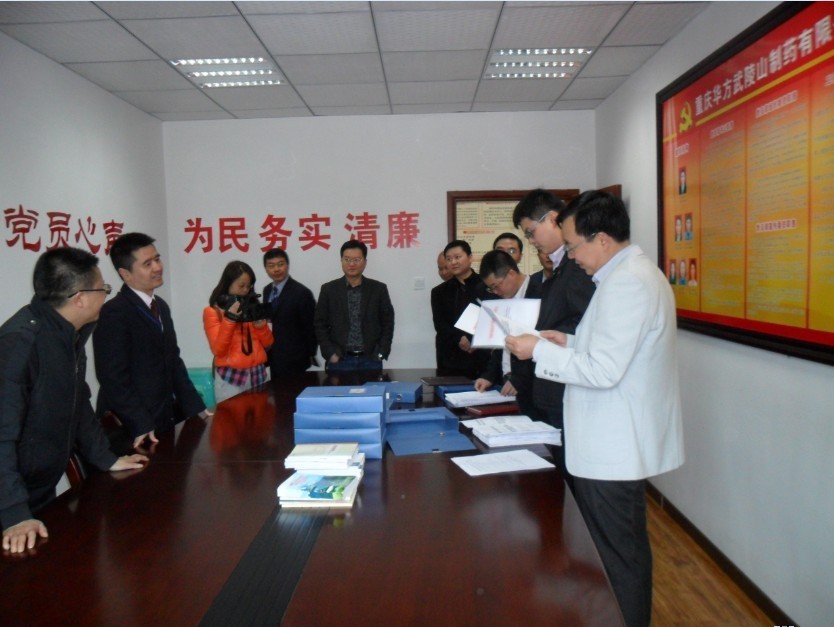 (Huawu Pharmaceutical General Manager Luo Xiaojiang, Party Branch Secretary Ran Jun, and branch committee members participated in the supervision and inspection)
The supervision team listened to the report on the development of the activities, checked relevant materials, and read the study notes, and fully affirmed the activities of the Huawu Pharmaceutical Branch. The supervision team believes that Huawu Pharmaceutical's production tasks are heavy, and the mass line education activities carried out a solid and orderly innovative activity carrier, enriched the content of the activity, and highlighted the effectiveness of the activity. Fully affirmed the understanding of the Huawu branch in carrying out the party's mass line education and practice activities, focusing on the key points, combining reality, clear plans, and implementing responsibilities. At the same time, the supervision team put forward requirements for follow-up activities.